Ieri sera si sono tenuti gli MTV Video Music Awards, ed ecco che scopriamo chi sono i vincitori e chi si è esibito sul palco. Particolarmente attese erano le performance di Rihanna, Green Day (che pochi giorni fa hanno annullato il concerto di Bologna) e Taylor Swift.
A trionfare sono stati gli One Direction, che hanno soffiato i premi da sotto il naso a Justin Bieber: plurinominati e pluripremiati, si sono confermati il fenomeno musicale del momento. Rihanna ha conquistato il premio per Video of the Year grazie a "We found love". Tra gli altri vincitori troviamo anche Demi Lovato, Drake e i Coldplay. Per chi si fosse perso la diretta questa notte, MTV trasmetterà la puntata sottotitolata l'8 settembre alle 21.20. Qui di seguito trovate la lista di tutti i vincitori e le immagini dello show.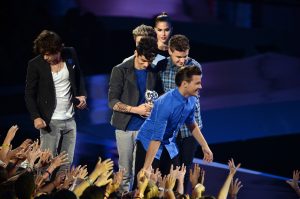 Video of the year
Rihanna – We found love
Best new artist
One direction – What makes you beautiful
Best Hip-Hop video
Drake feat. Lil Wayne, "HYFR"
Best Male Video
Chris Brown, "Turn Up the Music"
Best female video
Nicki Minaj, "Starships"
Best pop video
One Direction, "What Makes You Beautiful"
Best Rock Video
Coldplay, "Paradise"
Best Electronic Dance Music Video
Calvin Harris, "Feel So Close"
Best video with a message
Demi Lovato, "Skyscraper"
Most Share-Worthy Video
One direction
Sul palco degli MTV VMA's 2012 sono saliti anche Taylor Lautner e Robert Pattinson, che hanno presentato in anteprima una clip esclusiva dell'attesissimo "Breaking Dawn – parte II" in uscita a novembre. A chiudere l'evento è stata Taylor Swift, salita sul palco per esibirsi con "We are never getting back together". Durante la serata si sono esibiti gli One Direction con "one thing", ma anche Frank Ocean con "Thinking about you". Tra le performance più attese c'era quella di Rihanna, che ha aperto i VMA's con "Cockiness", qui trovate tutte le foto della serata, enjoy!